Making the Longitude Explorer Prize possible: a thank you to our partners
20 Nov 2019
The Longitude Explorer Prize would not be what it is today without the support and enthusiasm of our fantastic Partners. No matter how big or small the contribution, each Partner fits into the complex but efficient jigsaw puzzle that makes up the Prize.
It's important to stop and take a moment every now and then to reflect on all the people and organisations who make this opportunity for young people possible, and most importantly to thank them for their continued support!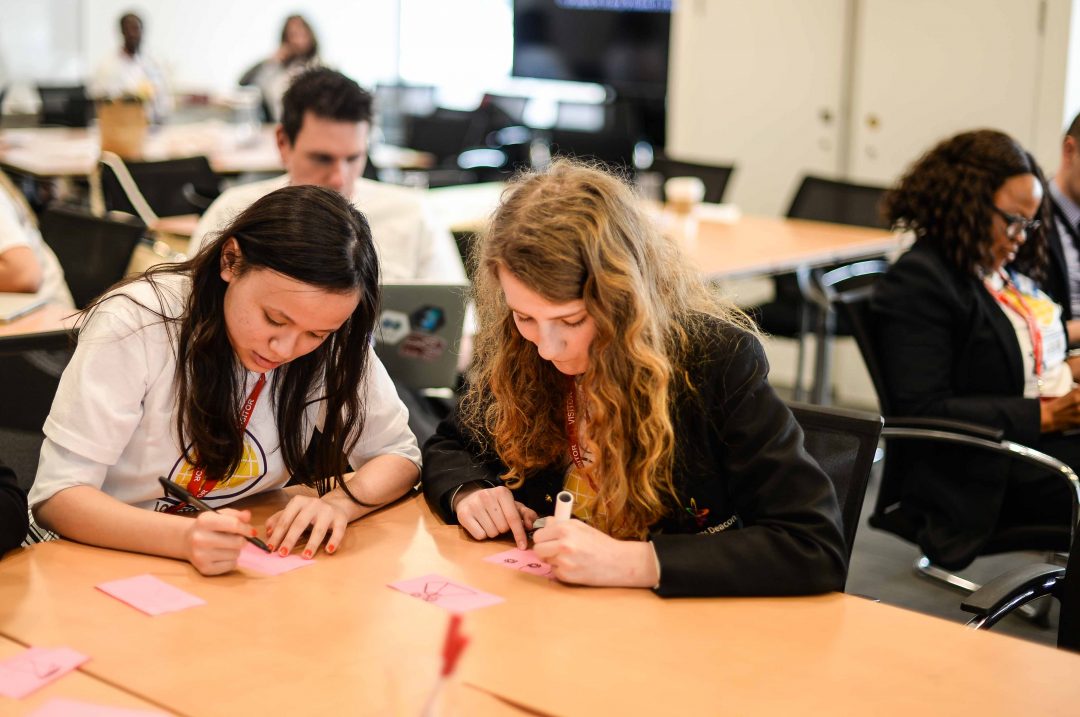 Why are partners so important?
Partnerships and support from other organisations and individuals are crucial to delivering a successful prize, as being able to draw upon a wide range of expertise, skills, networks and support enables us to deliver a great experience for participants. We are lucky to be supported by organisations who provide a variety of services, ranging from those who support us through getting the word out about the prize, to those who provide their staff time and resources.
Who are our current partners?
The prize would not be possible without our funding from the Department of Business Energy and Industrial Strategy (BEIS). BEIS has provided almost £1 million to the competition as they believe, like we do, that by investing in young people, they invest in the future of UK industries.
One of our longest standing supporters has been Digital Catapult who, in their day-to-day work, help to make UK businesses more competitive by supporting the adoption of digital technologies. One of the key ways they help the competition is through staff giving up their time to help provide expertise and guidance around the technological aspect of the prize.
A more recent connection, but already a true champion for the prize, is our partner Acorn Aspirations, who run amazing hackathons and events for teens. They have provided not only support and guidance, but also encouraged the young people they work with to take part in the prize.
Ocado Technology, who is powering the future of online retail through disruptive innovation in robotics and IoT, cloud platforms, big data, AI and software development, has kindly supported the prize through outreach, and they will also be providing a number of mentors to help our young innovators make their ideas a reality.
Consequential Robotics delivers the best of British & international design and engineering to the development of next generation consumer and commercial robots, & Sheffield Robotics is pioneering new products and processes that will transform the world by changing manufacturing, healthcare, infrastructure and our understanding of the human condition through responsible, ethical research. They have joined us on our Roadshow across the UK playing a crucial role in helping engage young people through robotics.
We have received a lot of support from organisations who are passionate about supporting young people, technology and education. We would like to thank them for their contributions, whether that is putting the prize in their newsletter, directly speaking to the young people they work with or talking about Longitude Explorer on social media. Every bit of outreach is important and helpful! Plus, our very own Nesta Ylabs in Wales and Nesta Scotland have both provided a great deal of support and advice in our outreach efforts.
Partnerships and support from other organisations and individuals are crucial to delivering a successful prize
Other supporters include:
The Intellectual Property Office (IPO): The official UK government body responsible for intellectual property rights. 
National Centre for Computing Education: Funded by the Department for Education and is run by a consortium of STEM Learning, the Raspberry Pi Foundation and BCS, The Chartered Institute for IT.
STEM Learning: Improving lives through a world-leading science, technology, engineering and mathematics education.
Unifrog: Help students compare every opportunity, then apply successfully. We also empower teachers and counselors to manage the progression process effectively.
Princes Trust: A youth charity that helps young people aged 11 to 30 get into jobs, education and training.
Raspberry Pi Foundation and Code Club: A charity that works to put the power of computing and digital making into the hands of people all over the world.
BBC Teach: Free primary and secondary school teaching resources. 
Girlguiding: Events, adventures and regular meetings empower girls to be their best and become confident women
Sentinus: The home of STEM (Science, Technology, Engineering and Mathematics), enrichment and enhancement activities for young people in Northern Ireland.
Technocamps: Providing hands-on computing workshops to inspire, motivate and engage young people.
Teach First: A charity that develops and supports teachers and leaders who are determined to make a difference where it's needed the most.
IVE: Run programmes that are designed to develop the creative leadership potential of the emerging talent we find in young people
Imagineering Foundation: Introduces 8-16 year olds to the fascinating world of engineering and technology through fun, hands-on activities.
Future First: Helps state schools and colleges build alumni network communities to support a variety of needs 
NCS: Programmes for 16 & 17 year olds to take part in social action and build skills for work and life
Young Scot – national youth advice and citizenship agency
CompEdNet is the Scottish Forum for Computing Science Teachers.
Education Scotland is a Scottish Government executive agency responsible for supporting quality and improvement in Scottish education.
YouthLink Scotland – national agency for youth work
Young H&F brings together youth organisations, businesses, local government, schools, funders and the wider community to create opportunities for young people
Computing at School provide leadership and strategic guidance to all those involved in Computing education in schools.
Welsh Government Innovation Raising the profile of #innovation and science in Wales.
Bristol Robotics Lab is an academic centre for multi-disciplinary robotics research in the UK.
West of Scotland Hub STEM Ambassador Hub one of 19 STEM Ambassador Hubs across the UK that are responsible for managing the STEM Ambassadors Programme from STEM Learning.
Young citizens is an education charity working in primary and secondary schools to help educate, inspire and motivate the active citizens of tomorrow.
Challenge Partners is a England-wide, practitioner-led education charity that enables collaboration between schools to enhance the life chances of all children, especially the most disadvantaged. 
The Science Showoff join Steve Cross and eight hilarious geeks from the local area for a chaotic evening of stand-up about science and the lives of scientists. 
Lancashire skills and employment hub Supporting the growth of the Lancashire economy by developing people's skills. 
The Proud Trust is a life saving and life enhancing organisation that helps LGBT+ young people empower themselves, to make a positive change for themselves, and their communities.
Suffolk Libraries, a charity improving the lives of thousands of Suffolk people by providing safe, fun and inspiring spaces and services.
Form the Future, we aim to empower young people in their career choices and prepare them for the future; and enable businesses to safeguard and build their talent pipeline.
Digital Lancashire is the voice of digital business in Lancashire.
Mozilla Festival is a gathering of educators, activists, technologists, researchers, artists, and young people dedicated to creating a better, healthier internet.
Voice is a magazine and platform for young creatives covering arts, culture, politics and technology
Heart of the South West Digital Skills Partnership, bringing together the public, private and third sector to tackle the digital skills divide in Somerset, Devon, Plymouth and Torbay.
Bellingham Regeneration Arts Group A New Youth and Cultural Partnership for Bellingham. Working together for more creative activities for children and young people. 
Big Youth Group, We are a collective of youth first services which all share one common purpose – to improve the odds for young people between the ages of 18-30 years old.
Beyond Our Youth (B.O.Y) we are connecting the dots by paving a way for young people across the world to fulfil their vision through partnerships, collaboration and social action.
MoSSFest, the Middle of Scotland Science festival is a pop-up family science festival with fun science events for all ages.
Future U is a collaborative project bringing together universities, colleges, schools and businesses from across Lancashire.
STEM Ambassadors Trans-Pennine, STEM news, events and inspiration.
STEM Ambassador South West Peninsula Hub this is one of 19 Hubs across the UK that manage the 33,000 nationally registered STEM Ambassadors.
Fire Tech Camp, on a mission to empower young people with tech and problem solving skills, inspiring kids 7-17 to code, build, tinker and create.
#iwill, a campaign which communicates with, connects and challenges organisations across the UK so that they embed support for youth social action into their culture and practice. 
Cheshire and Warrington Local Enterprise Partnership Working in partnership with local government, businesses, educational institutes and other public, private and community sector organisations
Lancashire Digital Skills Partnership Is a trailblazer funded by the DCMS that sits within the Skills and Employment Hub of the Lancashire LEP and brings together public private and charity sector organisations to address the digital skills needs of the County
South East Local Enterprise Partnership – Investing in the skills provision and facilities has been designed to transform deficiencies in the SELEP area. A Careers Enterprise Network linking education and industry with 160 secondary schools and employers already engaged.
HotSW Digital Skills Partnership – tackles local digital skills challenges to build thriving and inclusive local economies.
East Sussex Local Council – East Sussex Careers Hub
Skills East Sussex – Skills East Sussex (SES) is the county's strategic body for employment and skills. The group aims to drive an improvement in local employment and skills in order to increase economic prosperity in East Sussex
Careers & Enterprise Company – Inspiring and preparing young people for the fast-changing world of work
Inspire Youth Zone, Chorley – Inspire Youth Zone provides a fun and safe environment where young people can come and enjoy themselves and enables young people to raise their aspirations and confidence to create a happier and healthier generation.
Real Ideas Organisation – passionate about solving social problems, supporting young people to develop the skills to succeed. Drive policy, shape places, deliver strategic programmes and support and develop people.
Exeter City Council  – school outreach
Met Office – Collaboration Building Exeter
London Connected Learning Centre – Extraordinary Learning with and about Technology
Tech London Advocates Education – joining the dots across the national education sector by providing a central resource for networking, information, signposting, promoting and supporting activity across three key working streams: Skills, Ed Tech, Apprenticeships
Cambridge Spark – a leader in data science and software engineering talent attraction, assessment and development.
RoundTable Global – an international award winning learning and development organisation passionate about making a difference in the world.
STEM AMBASSADOR HUB EAST MIDLANDS – Schools, Colleges, Youth and Community groups can request the help of STEM Ambassadors FREE of charge to support their STEM activities.
STEM Ambassador Hub West England – one in a network of 19 Hubs across the UK that manage the volunteering opportunities for the UK's 33,000 registered STEM Ambassadors.
STEM AMBASSADOR HUB CENTRAL SOUTH ENGLAND – to help inspire young people in science, technology, engineering and mathematics.
STEM AMBASSADOR HUB SOUTH EAST ENGLAND – Ambassadors use their enthusiasm and commitment to encourage young people to enjoy STEM subjects.
STEM AMBASSADOR HUB EAST SCOTLAND – to help inspire young people in science, technology, engineering and mathematics.
STEM AMBASSADOR HUB NORTHERN IRELAND – professionals with STEM skills who have volunteered to promote STEM in local schools.
Let us know if you have supported the Prize and don't see your organisation listed here – we'll make sure to add you!
What do we look for from partners?
We are always interested in connecting with other organisations and individuals who are passionate about supporting young people, technology and entrepreneurship. Some of the ways we ask partners to get involved through are:
Outreach
We're hoping to reach schools and youth groups across the UK via teachers, governors, parents and the young people themselves. You can help amplify the message via: Newsletters, Social Media, Events
A.I Content
We want to make sure our A.I content is accessible for teachers and participants; we look for fun and informative content to signpost to: Engaging learning content for use in the classroom or independently online
Mentors
An integral part of Longitude Explorer is the support participants get from their mentors. We're looking for: 60 mentors to support our 30 finalists. Our hope is that each team will have one technical mentor to support the A.I development of their prototype and one business mentor to support them with their business plan and pitch, but one mentor may be equipped to help with both. We do not expect one partner to provide all mentors, and one mentor can work with more than one team if they have the capacity. Mentoring can also happen remotely via Skype, though we do aim for mentors to meet their teams face to face at the finalist development event.
Event Support
We put on fun and engaging events throughout Longitude Explorer. We're looking for support with: Engaging and active content about A.I, entrepreneurship and innovation, Speakers or facilitators.
If you are not sure you can help with any of these but are still interested in the Prize please do reach out via explorer@nesta.org and we will get back to you about other ways you can get involved!